Introducing the Novel "Startup Incubator" Platform at AAT-AD/PD™ 2020
The goal of the "Startup Incubator" is to build a highly creative ecosystem of startups and novel participants at the AAT-AD/PD™ conference, to both modernize and broaden the spectrum of the AD/PD™ community.
The format of the "Startup Incubator" will be a highly interactive and creative networking zone within the professional exhibition area. Booths, lounge furniture and electronic poster boards for 5 minutes company pitches will be provided. Poster boards for short company presentations, space and infrastructure for discussion forums will also be available. Additional benefits will include discounted exhibition fees and access to AAT-AD/PD™ symposia. Startup company names will be displayed on site, on the conference website, the AD/PD™ social network, and will be summarized in the congress materials.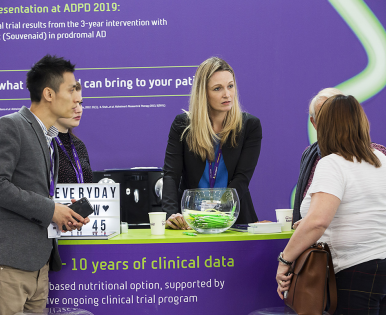 The target audience is startup companies in the life sciences including biotech, biopharmaceuticals, SCMs, MedTech, diagnostics, imaging, biomarker, big data, services, health tech companies and more.
We are looking for young companies with innovative product ideas, established management teams, legal incorporation, ideally at a stage prior to a major, transformative, financing round. Local, national and international.
The application process will be through Kenes Group. Successful applications will be selected by AAT-AD/PD™ Program Committee upon review of non-confidential corporate summaries or flyers.